Fresh Mind. The Ultimate Self Design Programme (Edit)
Fresh Mind is a 21st century programme enabling powerful performers to step into their full potential right now and realise a life of perfection.
The History Of Broken Human Psychology
Integral team spent decades on self improvement, self help and discovery.
We tried all sorts of methods.
Journalling, classic coaching, therapy, meditation, reading books, habitualisation, sacred ceremonies and hypnosis.
Some of them made us feel good for a while.
Some of them made us realise new aspirations we have.
Most of them didn't give us a full set of results we wanted.
So what we did was to set out on a path to understand why?
Why it is that 10+ years of individual self-help still didn't get us to realise our full potentials.
We never thought that our research would unearth a breakthrough in human transformation.
This is what Fresh Mind programme is.
Clearing Our Negative Psychology
Fresh Mind is a programme for clearing human psychology through all intelligences.
We grounded Fresh Mind programme in Integral Theory.
It's based on extensive research across all knowledge disciplines.
They include: Integral Psychology, coaching, all sciences, classic psychology, holistic therapy and more.
Fresh Mind enables you to reprogram all aspects of your psyche.
It enables you to clean those parts that prevent you from achieving your full potential.
It is a fast and enjoyable programme.
Results are permanent and will significantly boost your all round performance.
Fresh Mind results reflect themselves across the full spectrum of human intelligences.
Fresh Mind is the most extensively researched approach to powerful personal performance on the planet.
How Your Life Will Transform
Fresh Mind is profoundly unique compared to any other similar programme.
In fact, we can call it a complete human inner redesign programme.
It is about seeing your entire psyche and removing out of it the unwanted parts.
Those parts that you no longer want and that don't serve your life of purpose and perfection.
This comparison chart shows how Fresh Mind compares to other methods.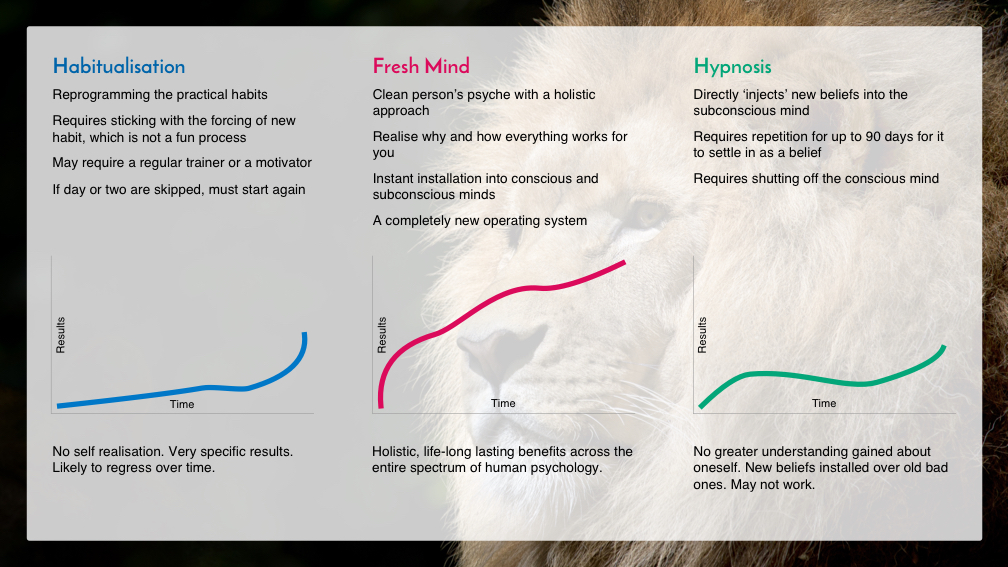 Realise Your Full Potential
Fresh Mind programme is for high achievers and future global leaders.
You have to be ready to be completely honest with yourself.
You must admit to yourself that you are the cause of problems in your life and the solution to those problems too.
Because you are the guardian and enabler of your own destiny.
For the programme to work, you will need to be self-aware enough.
You will be wanting to live your life to absolute maximum experience all the time.
This is why we need you to qualify for this programme.
You will need to be an achiever and/or a sensitive type for Fresh Mind programme to yield greatest results for you.
You will also need to be ready to stick through around 40 hours of one to one coaching.
This can happen over a period of 7-30 days depending on your preferences and schedule.
Take The Next Step
If you are ready to start the programme of designing a perfect life for yourself, great.
The next step for you is to get in touch with us via this simple form.
Integral team will contact you for a short consultation.
After a successful consultation our team will place you on the programme with one of our top coaches.
Experiencing Fresh Mind Programme
Fresh Mind programme runs in three parts.
Complete Catharsis
This is the part where we get to understand all the aspects of yourself which you want to let go of.
It gives us a total overview of the scope of cleaning you will need to do.
It gets documented for later reference and cleaning through.
This part takes no longer than 7 hours.
Cleaning Coaching
We go through a programme of systematic cleaning of all your psychological blocks.
This is where you will learn how to overcome your biggest mental barriers in life.
This part takes around 25 hours.
Perfection Programming
The last part of Fresh Mind is about shooting for the perfection stars.
Getting you to define your performance perfection across complete spectrum of your being.
This part takes around 8 hours.
Most people choose to go through Fresh Mind programme over a period of 2-3 months.
With 1-2 individual 2 hour sessions each week.
It gives them time to reflect on their realisations.
It lets them embody the new found performance perfection into their lives.
It also works very well around busy work schedules.
Beyond Pristine Mindset
Fresh Mind establishes a clean mental foundation for your life of perfect living.
It enables you to operate from a constant flow state.
It lets you create and operate from a state of constant effortless mastery.
Once you complete the Fresh Mind programme, we can talk about coaching you further.
Towards achieving your ultimate dreams.
And developing skills to do those things you always wanted.
Give A Gift Of Fresh Mind
Invite a friend, colleague or a family member to get a Fresh Mind.
You will enable them to realise their full potential and will earn money in the process.