UX Design Mastery (Edit)
UX Design Mastery will transform you into a holistic master of UX Design. The course covers all User Centered Design areas in great depth. Through enormous fun, you'll gain practical skills, while designing your own project or portfolio.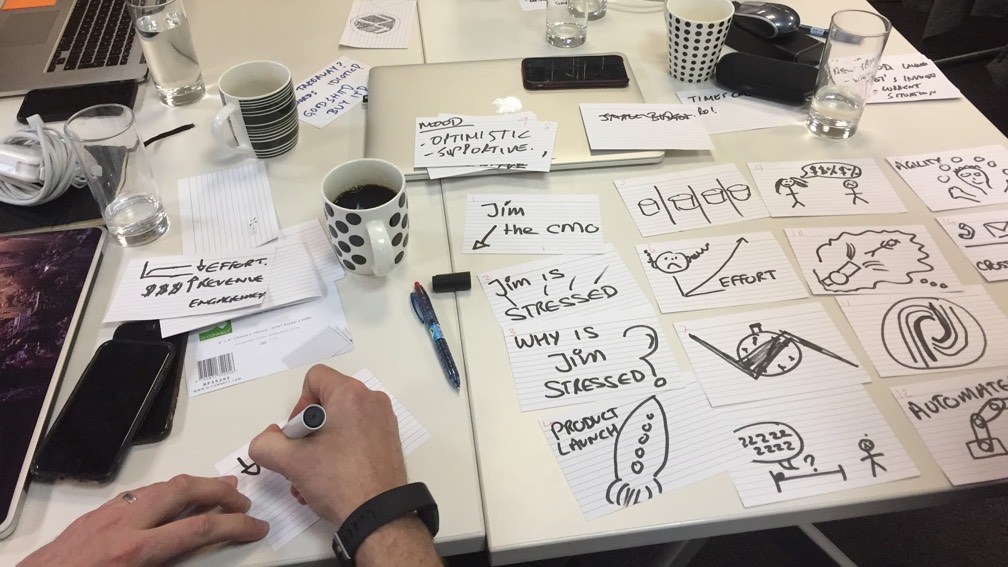 Aspire Higher
UX Design Mastery Programme provides a holistic cover of all the most important topics in UX Design through an 8 week online part-time programme.
From the start, down to the final delivery of the design projects.
The course is perfect for those interested in becoming professional UX Designers.
Or for those looking to formalise their UX Design skills further.
At the end of this course you'll have an understanding of UX Design and techniques that make a UX Design Master.
Discover the Depth
UX Design Mastery covers holistic spectrum of UX Design realm.
Course Programme
The topics we discuss follow the User Centered Design (UCD) framework.
This is the full course breakdown.
Saturation
Week 1: Defining users
Week 2: Identifying needs 

Incubation
Week 3: Defining scenarios
Week 4: Ideating and sketching
Illumination
Week 5: Wireframing
Week 6: Prototyping
Verification
Week 7: Testing
Week 8: Research and Assessing
Each session is 3 hours long, with a mixture of presenting, conversing and practical work.
Our teachers provide unlimited support during the course, answering each student question as a video answer made available to all course attendees.
The cache of answers grows over time and students get access to them in future too.
True Progress
So why should you choose Integral UX Design Mastery course?
Here are some of the benefits and our unique selling points:
We used User Centred Design to design this course. It's a self-fulfilling prophecy within a self-fulfilling prophecy
You will get coached, rather than taught. Your knowledge retention will thus be much higher compared to other courses

The quality of our take-home materials is world class. You can keep those for yourself, forever! 

You will get to engage with our professional coaches in one-to-one manner all the time 

We will give you a comprehensive post-course support. This further helps to move you into your next UX Design best self as soon as possible 

You will become part of a powerful network of UX Designers and Design Thinkers. Who will support your career for long time to come 

You will have enormous fun learning with us. Guaranteed! 

You will have a practical project UX Designed by the end of the course. Whether an app, your portfolio or a client project. You choose.

Long term, you will be able to become a UX Design or Design Thinking Coach with UX Coach itself 

Your monetary ROI will be 600%+ per year with a career progress imminent after the course
You will get unlimited on demand support during the course from the teachers and coaches
You will get access to continuously updating cache of video answers to all types of questions on UX Designs from all students who ask questions
We will work actively on helping you get a (better) UX Design job after completing the course
You will get an Integral UX Design Mastery certificate
You will get a formal reference on LinkedIn from the course teacher
Integral will promote you officially as a certified UX Design Mastery graduate on all social media
You will become a member of Integral graduate club with access to further exclusive content around even more advanced self development and integration
Mastery. Now!
Now is the best time to start UX Design Mastery.
Now!
By end of 2018 you could be a UX Design Master yourself.
What is stopping you from doing this?
Only you.
Imagine what you will feel like at the end of 2018?
You will have such a sense of accomplishment.
You will be proud of your past self for making that decision for you.
The fact that you are reading this is great.
The only thing you need to do now is to trust yourself.
And decide to take the most exciting professional adventure you might ever take.
By doing UX Design Mastery course you will have fun, learn and develop concrete skills.
You will grow!
Coach and Instructor
All people who deliver Integral courses always have both theoretical and practical extensive grounding in the subject matters they coach.
They are often world leaders in their subject matters, with many practical stories to tell from the 'industrial trenches'.
They are also thought leaders and influencers in their own right, with regular speaking at UX Design conferences worldwide.
Jason Grant, BSc, MSc
Jason has spent over a decade designing world class experiences for corporate clients including Amex, MTV, Nando's, ROLI, Samsung and Mind Candy in amongst others. Jason now coaches Design Thinking and UX Design to help many other people do the same in their lives and careers. Jason is a multi-faceted polymath with hugely entrepreneurial mindset. He speaks at UX Design conferences and coaches Design Thinking at major corporations such as Adobe, GSMA and HMRC. Products he designed are now sold in Apple Stores worldwide. He's also previously taught UX Design intensive courses at General Assembly in London and brings major improvements to that course into UX Design Mastery programme. His formal education background is a Degree in Computer Science and a Master's Degree in Business Information Systems Design.
Wise Investment
Tuition price for this course is only £3497, which works out only at around £62.44 per day.
After doing this course, we soon see graduates obtaining jobs that pay £15000 per year more than their previous job.
This means that for £3497 invested, you could soon be getting £15000 per year returns.
This is a 428%+ ROI per year!
Integral is happy to take only 50% up front for you to start the course in exceptional circumstances.
By doing this course you are gaining transferable skills for life.
These skills will be applicable to many areas of your life.
The return on investment you get isn't only monetary, but practical and emotional too.
Emotional Experience
At Integral, we know that humans are emotional animals.
This is why instead of teaching you, we also coach you.
We make sure that your experience of learning with us is unforgettable.
Why?
Because we want you to be one of the Integral UX Coaches in near future.
We make the courses engaging, interactive, productive, creative and fun.
This is how you learn best.
It will feel more like a trip to a cinema, rather than school or University, while being more practically educational than an army boot camp.
Don't get us wrong.
You will have to work hard, it's that you won't feel like you are working.
Learning Outcomes
Our graduates now work at companies such as: Canonical, Amazon, Google, LEGO, eBay and AKQA.
Share The Mastery
At Integral we put extraordinary efforts into our students.
It is our intention to have everyone who got coached by us to become a loyal advocate of our courses.
Please share this course with your friends and colleagues at work who may benefit from it.